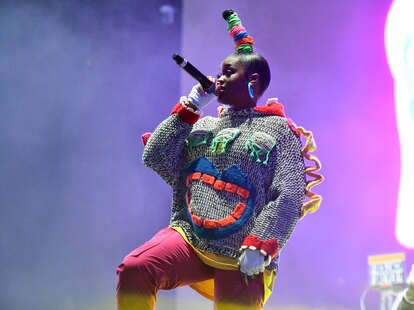 Tierra Whack. Credit: Getty Images
Tierra Whack. Credit: Getty Images
For Black History month, we're telling stories about Black leaders who are effecting meaningful change together with our sponsor, State Farm.
From history, culture, to art, and fashion, Black women have shaped the world as we know it, and music is no exception. Among the big names who have defined culture with their momentous contributions comes a new set of Black women artists who are taking the industry by storm and transcending boundaries. Yung Baby Tate, Adia Victoria, Mahalia, and Tierra Whack are bending traditional genres and inventing new ones, inspiring future artists, and advocating for freedom of expression along the way.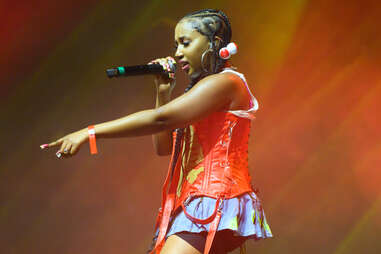 Yung Baby Tate has always had star power. The Atlanta, Georgia native was born in a musical household to Grammy-nominated singer and song-writer Dionne Farris. At 25, the artist, who recently provided vocals for well-established rappers 21 Savage and J.I.D. on the new track called "Surround Sound," has also branched out to experiment with international artists, like Zimbabwean-Australian rapper Tkay Maidza.
Experimentation has been an integral part of the artist's identity since she was a teen: "I started making my own music when I was 13 and started putting my music out when I was 19, so I've been doing my thing ever since," Yung Baby Tate said on an episode of "Love & Hip Hop Atlanta" in July of 2021, adding,"This is a life of an up-and-coming superstar, I'm excited for people to see my journey, the rise to stardom that I was always destined for."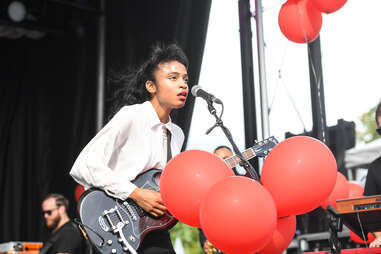 Adia Victoria brings a unique sound to a genre known as the Gothic Blues. Victoria conceived her most recent album, "A Southern Gothic," as a collection of short stories set in the South, which is a major source of inspiration for the singer, especially amid the pandemic.
The singer's honesty about her conflicted relationship with the South is perhaps what makes the sonic quality of the album so poignant, with lyricism that transcends traditional boundaries. And, as it relates to smashing conventional barriers, Victoria shows no signs of letting up, resolving to undo power dynamics traditionally linked to race in the South.
Her imagination is the vehicle through which she accomplishes this: "Growing up in Spartanburg, South Carolina, me and my sisters and little girls from the neighborhood, we would gather underneath the magnolia and just play imagination," she said in an interview with Nashville's WNXP. "And we would create entire worlds, just spend whole summer days out there. But on the flip side of that, the magnolia is also this icon of white supremacy and white, Southern myth-making, with mint juleps, magnolia moonlight, all that, you know, nonsense. I was like, 'How can I reclaim the magnolia for myself and all these Southern, Black girls?'"
In the past, much of British-Jamaican singer's past tapes were about struggling with self love and confidence. Yet, her lyrics also endorse and voice the need to love yourself before loving someone else. The dance between self acceptance and self criticism is one that the rising singer portrays with grace on her tracks. The singer has also been open about her sobriety journey and how she found her sound – and confidence.
In a BBC interview, the singer reflected on her trajectory, saying, "At first I was purely this girl with a guitar and I was like, 'God, I'm not sure I want to be a singer-songwriter who tours on her own.' So I had to work out how to find new sounds and new sonics and make it somehow a fully-formed thing."
Tierra Whack, who has been praised by big names like Erykah Badu, has subtly redefined digital music through experimental methods, such as playing with song duration and unique beats. The Philadelphia native has been "revolutionizing" hip-hop by creating her own "audio visual fantasy world," using tracks, beats, production and sound that are much different and situated outside of the typical realm of traditional hip-hop sound and beats. She is known for her "weird" and out of the box sound and inspiring her listeners through her music to be themselves, even if they are "alt" or different You can't put me in a box," the singer said, "Because then just like, you're not going to get anything."
—–
Click here to see more of our Black History Month coverage.