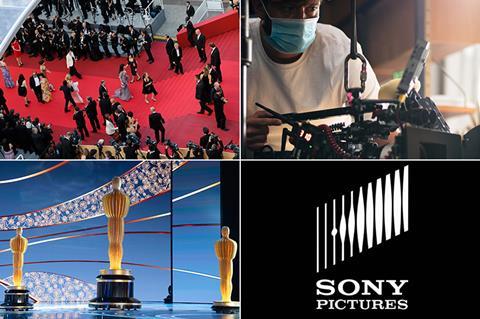 Will the festival and market circuit survive intact?
The consensus seems to be largely yes for 2021 – albeit in altered shape – but expect a new landscape from 2022. The industry has realised just how productive a person can be with a laptop, a kitchen table and a Zoom account and there are international events that are never going to retain their 2019 size. We have all found out the hard way we simply don't need to travel as much and every single festival and market Screen talked to in 2020  has said it expects to retain certain online elements. Add to that a possible squeeze on state support (see below) and there may be less to pack for in any case. 
What will the festival calendar uncertainty mean for filmmakers?
The first quarter of the year will see all North American and European film festivals and markets take place online. Slimmed-down versions of Sundance, SXSW, Goteberg, Glasgow and Rotterdam are very well prepared and the latter is looking forward to a physical event in June to celebrate its 50th anniversary.
The Berlinale is hoping for some kind of in-person competition screenings during its reimagined, otherwise entirely online, early March edition but hope alone is no good. A June iteration is also planned for local audiences. Buyers and sellers are now used to online markets and a digital EFM has been welcomed.
Which leaves Cannes as the first time the international industry might get together since Berlin 2019. But when that actually takes place will generate many more headlines in 2021. It is pencilled in for May 11- 22 but a late June date has also been mooted and there's even talk of August on the Croisette – although industry enthusiasm for the latter is not turbo-charged.
The question now is what this means for the films. Thierry Fremaux could probably announce a line-up now with the 2020 titles that chose to hold on for a physical premiere. Production has been slower than usual in the last six months but there are plenty of new films that could be considered contenders. The industry could be facing a high-class problem of a squeeze on festival slots.
Can the documentary boom continue?
2020 did not hold back the doc sector. Documentary filmmakers are unfazed by pandemic conditions for whom scant funding, challenging shooting environments, and a lack of glitzy physical screenings are nothing new. The festivals that support them – including Denmark's CPH: DOX and France's Visions du Reel to name two early ones – pioneered the move to online events with impressive results.
Will the awards season be more representative?
The short answer is likely to be yes. The lack of US studio films is giving independent and some international titles the almost undivided attention of Oscar, Bafta and Globe voters.
At an organisational level, Bafta has entered a period of intense soul-searching following the 2020 awards and undertaken an overhaul of voting procedures and membership. However, the impact of these will probably only be felt in 2022 when the industry can expect an incredibly busy awards season with two years-worth of studio films in play. That's the year that will important. And the ones after that. 2020 was – in this way at least – the easy one.
Enduring change needs to see the industry as a whole become more representative, with budgets and the top jobs given to more women, more people of colour, LGBTQ+ people and people with a disability in 2021 and the years ahead.
How can we safeguard environmental and diversity gains at a production level during a pandemic?
Many of the sustainability strides made by productions have been thrown out of the window in the face of Covid-19 protocols. Single-serve catering and plastic gloves have made a comeback and of course there are thousands of disposable masks. Even the physical footprint is a lot bigger as productions need more space for cast and crew, double or triple the number of trailers. The one upside is the much less frequent flying everyone has been doing although that trend is unlikely to continue into 2022.
The need to keep down the number of people on film sets has meant in-person mentoring and training initiatives have needed to innovate and training organisations have stepped up with online courses. But nothing can replicate physical experiences.
What is the risk to international public funding models?
Governments around the world are spending billions on furlough schemes and financial packages to keep their economies afloat into 2021. The fear now is from where they are going to claw that money back. Cultural support for productions, for festivals, for training, for education, are undoubtedly at risk. National industries are going to need to present a unified front to governments to ensure funding for the arts is not completely decimated for a decade.
How can China work with the international industry?
China is now one of the few territories in the world with a flourishing theatrical market, although it has not been able to compensate for losses incurred when cinemas were closed by Covid-19 from late January to July. As of December 21, annual box office had reached $2.82bn, down 70.6% on the same point in 2019.
Nonetheless, China overtook the US this year as the world's biggest box-office market, local film and TV production has returned to almost pre-pandemic levels, Chinese streaming platforms iQiyi and Tencent Video are expanding into Southeast Asia and well-funded tech players such as Bytedance and Bilibili are starting to finance long-form content.
But Sino-foreign collaboration is likely to be complicated over the next year due to Covid-19 travel restrictions, the political environment, foreign exchange controls and an understandable desire to focus on recovery of the local film industry.
Nearly every major studio is churning out patriotic blockbusters for release in 2021, which marks the 100th anniversary of the Chinese Communist Party, so it could be more difficult to secure screen space for foreign specialist films. Chinese cinemagoers appear to be favouring domestic product over Hollywood tentpoles and the recent controversy over an alleged racist joke in Monster Hunter demonstrates a greater sensitivity amongst audiences, not just the new regulatory bodies.
While it's too early to predict how the US-China trade war will shape up under the Biden administration, recently appointed US trade representative Katherine Tai is unlikely to go easy on the US's biggest geopolitical competitor.
Can cinemagoing bounce back to 2019 levels?
Cinemagoing will bounce back in 2021, but don't expect attendance levels – not in the West, at any rate – to overtake 2019 or other recent benchmark years, simply because venues won't be open or operating at full capacity for the entire 12 months. 2022 will be a better measure of where exhibition stands.
The sector took a battering in 2020 and the impact of the pandemic and resulting cinema closures will change exhibition forever. Some independent and small chains will go out of business, while the giant circuits may restructure or consolidate – economic recovery can be a busy time for mergers and acquisitions – and shut down venues that have traditionally underperformed.
While there will be plenty of postponed and new films to screen in 2021, cinemas and audiences will only return in force once widely available Covid vaccines have created herd immunity. Inevitably there will be some who, shaken by the events of 2020, will never return to cinemas. Experts believe most patrons are likely to do so: everybody needs to get out, and cinemagoing remains a unique and affordable entertainment option.
The pandemic, coupled with huge subscriber and content gains by streamers in 2020, has accelerated the shrinking of the exclusive theatrical window in the US to 17 days in some cases. Nonetheless, cinemas will benefit from ticket sales on coveted releases, while the savvy chains will negotiate PVoD revenue share deals with studios to share in success once a film enters the home. AMC, Cinemark and Cineplex have already done this with Universal in arrangements that will last well beyond 2021.
What next for Sony and Paramount?
Hollywood studios and their owners are set up to exploit feature films and entertainment IP across multiple platforms, with streaming now clearly front-and-centre of strategy. Universal Pictures and Warner Bros are owned by telecom behemoths, and Disney exists within its own massive media and entertainment entity.
In a fast-changing landscape, observers continue to speculate over the fate of Sony Pictures and Paramount Pictures. Neither is owned by a telecom giant, and there appears to be no let-up in speculation that a tech behemoth like Apple will come along and snap them up, or even Paramount parent ViacomCBS, in a bid to compete with Netflix and Amazon Prime Video.
Sony's Japanese owners could build out a more expansive film and TV streaming strategy involving the hugely popular PlayStation platform, although Sony Pictures remains a staunch defender of the theatrical experience so such a move might take time to bear fruit. Eventually, a corporate acquisition looks like the most realistic outcome.