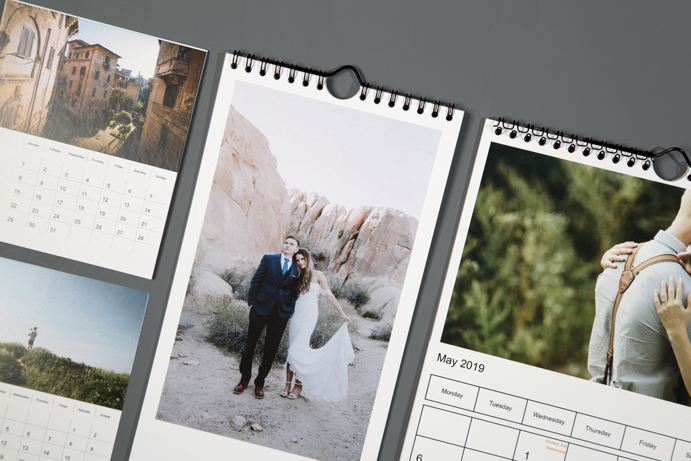 Stylish, beautiful and bespoke personalised calendars are far more than a collection of pages that allow you to record and reserve your daily and month-to-view appointments and schedule of activities. Made from luxurious high quality paper, these elegant organisational calendars create an attractive feature when hung on a wall, or displayed on a desk or shelf.
Practical and versatile, calendars that are customisable can display striking arrangements of your favourite themed photos, or special moments that capture the happiest of memories of your life. They can show off your exotic far-flung destination holiday snaps, or a random selection of photographs of the whole family. You can even theme an entire calendar to create a stunning and unique gift for a loved one.
Wall Or Desk Display?
If you're keen to swap your unusual off-the-shelf calendar for something that's more stylish and personal in 2022, a bespoke option offers endless creative display possibilities.
First, you'll need to consider where you want to display your one-of-a-kind calendar, and its ideal format… Personalised calendars that are designed for wall hanging can provide a decorative alternative to art prints and pictures, and framed photos that are usually displayed in a focal area of any room.
If wall space is limited, a desk calendar is the perfect alternative. Featuring flip over pages, this compact calendar can be positioned on your workplace or home office desk, on the hall console table, or on a shelf at eye level.
Classy Customised Style
Unlike the generic off-the-shelf calendars that simply feature days of the week/months and numbers, or a series of themed images like celebrities, animals or vehicles, a luxurious bespoke calendar can display a collection of carefully curated photographs that include precious, intimate, candid and special moments, or spectacular landscapes from your most recent holiday.
You get to decide which of your favourite black and white or colour photos are beautifully presented in an elegant calendar template. You can also create a visually appealing cover that hints at what the viewer may discover inside.
Customisable A4 wall calendars can be embellished with luxurious foil detail and a photo collage of up to 6 images. Adding text to the dates that celebrate family birthdays or anniversaries is also possible, when you opt for an original and bespoke design.
Simplified Organisation For The Whole Family
With a little tweaking, personalised calendars can easily be transformed into a versatile, practical and functional family planner that has style. Simplify your hectic lifestyle by adding written reminders of daily activities like important appointments, meetings, and extra curricular after-school activities. Birthdays and other family milestones can also be added to the relevant monthly pages, so that you don't forget them.
If you're artistic and creatively minded, you can choose to add colour coding to the calendar, for easy identification of weekly and monthly timetable commitments, for each member of your family. Youngsters will have fun checking out what's coming up week-to-week, and counting down the days until the promised family outing treat. They may even get excited when the end of a month arrives, and it's time to flip the page over to discover another fabulous photo of happy days.
A Great Personalised Gift Idea
While a custom-made luxury calendar is a stylish décor accessory for your home, it also makes an excellent personalised gift for someone you love. The friend or family member who has everything will be pleasantly surprised to unwrap a beautiful calendar that has been personalised with photos of precious and magical moments.
Celebrate a landmark occasion or milestone birthday by gifting your best friend a calendar that features your favourite photos of the two of you growing up together. Mark a special event, like retirement, moving home, or starting a new job, by gifting a customised calendar that highlights happy memories of the past and present.
Give your partner a surprise by gifting them a stunning square desk calendar that they can use at work. They will be proud to show off the gorgeous photos you have chosen of your wedding day, hiking together in the mountains holiday, or cheeky children.
And of course, grandparents will be absolutely delighted to receive a stylish luxury calendar that features an array of pictures of your happy, smiling brood.
Something To Look Forward To Every Day
If you love the idea of treating yourself to a new calendar style in the New Year, going bespoke is highly recommended. Choose your favourite photographs of loved ones or special places or events, and enjoy gazing at them throughout the year.
There are no limits to the type of images you choose to display in personalised calendars. You can create a themed arrangement of breathtaking panoramic views from all over the world, or focus all of the attention on a personal interest or hobby, like gardening, bird watching, sports, or cooking.
Alternatively, ask your friends and relatives to pick out and donate their favourite photographs, so that you can fill up the pages of your new calendar with an assortment of colourful snaps that are not familiar to you. You'll be surprised by the view every month.
If you're a keen photographer, or you know one, a customised calendar offers a great way to show off that talent. Pick out the most visually striking images to display in an A4 'gallery' style format, and create your own private art show.