The Ocean Art Underwater Photo Competition has revealed its 2021 winners, marking the contest's 10th anniversary. Although the participants encountered challenges and travel restrictions brought upon by the pandemic, the submitted entries showed a high caliber of craftsmanship.
The contest, organized by the Underwater Photography Guide, looks for the world's best photos that document marine life behavior, unique portraits of underwater critters, and powerful images that advocate for the conservation of the subsurface planet.
The Ocean Art Underwater Photo Competition received a large number of entries from 81 countries. This year's judging panel included prestigious underwater photographers Tony Wu, Mark Strickland, and Marty Snyderman.
Numerous sponsors helped provide over $35,000 in prizes, awarded to the winners across 13 categories, in addition to the overall winner of the Best of Show title.
"We were excited to see photographers continue to travel locally and internationally to capture amazing photos," says Scott Gietler, BUnderwater Photography Guide published and Bluewater Photo and Bluewater Travel owner.
Strickland, one of the judges and also an experienced diver with over 10,000 dives himself, noted that "despite the drastic decline in dive travel compared to previous years," he was impressed by the number of quality images in most categories, including those taken with compact cameras.
Best of Show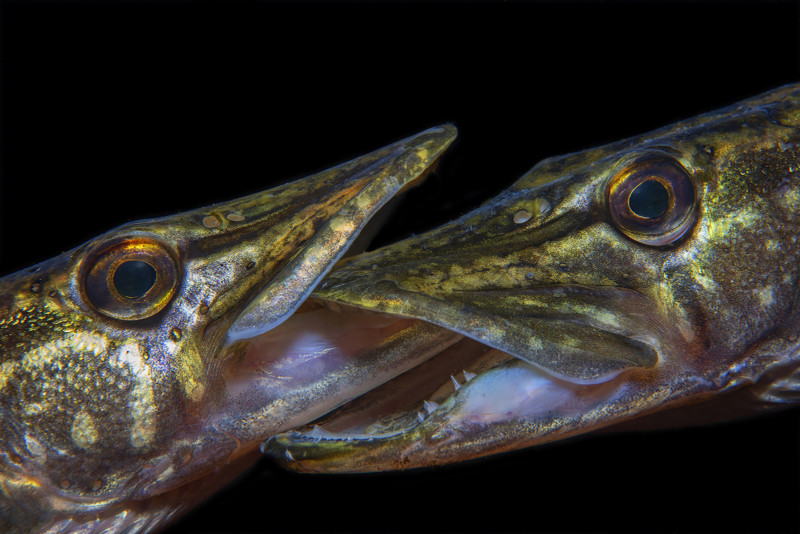 Luc Rooman's shot of fighting pike won both the Best of Show and the Marine Life Behavior categories. His photograph was captured during a night dive in October near Antwerp, Belgium. Rooman explains that he was lucky enough to build a whole series of pictures of these two pikes.
Wide-Angle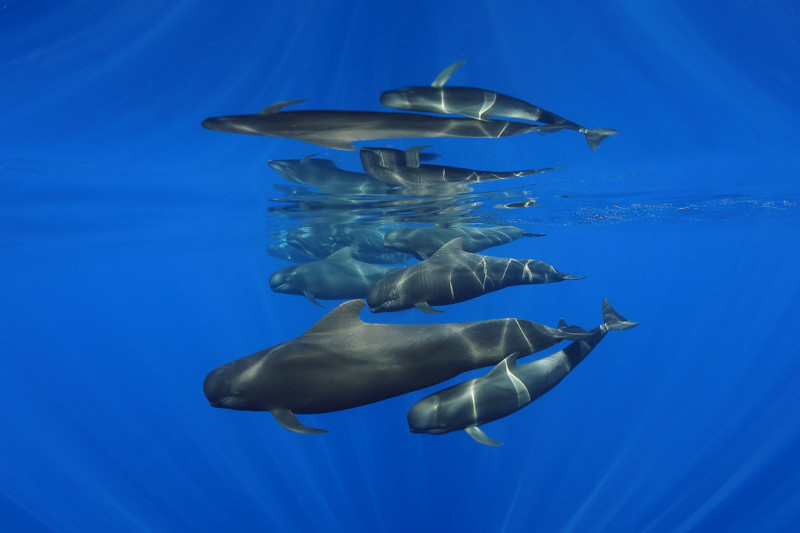 Eduardo Acevedo captured a group of pilot whales, which won the Wide-Angle category. In the photo, adult females with calves and juvenile whales swim together, which is not an unusual sight to encounter. Acevedo captured the "family" of whales swimming in clear waters in the southwest of the channel between the islands of Tenerife and La Gomera.
Macro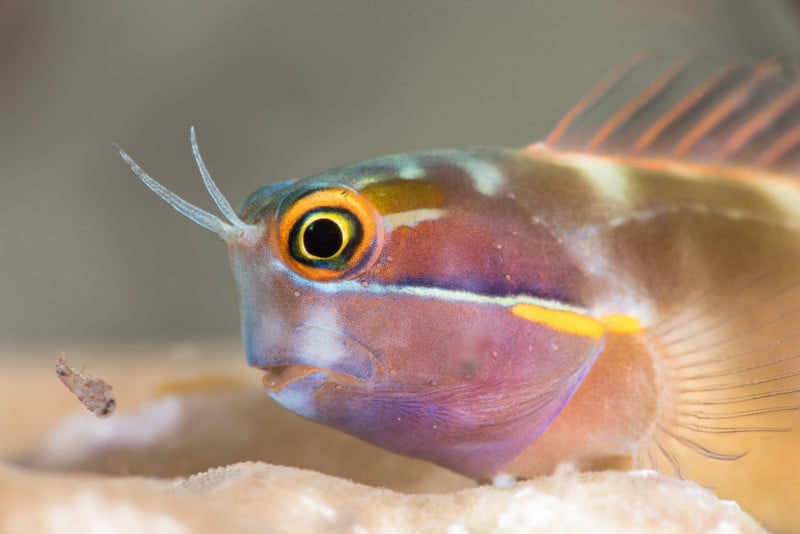 In a dive, searching for the famous Epaulette Walking sharks, Nigel Motyer captured the winning photo of blenny, a small fish. Motyer was particularly enthralled by the color around its eyes and the expressive face.
Portrait
Photographer Paolo Bausani won the Portrait category with this photo of bright and vividly-colored male anthias as it faced the camera with its mouth open, revealing the internal gills. Bausani captured the fish in Argentarola Rock, Italy.
Nudibranch
Salvatore Ianniello shot his winning image in a lagoon near the Gulf of Naples, Italy. It depicts a Godiva quadricolor spawning, as seen from below.
Blackwater
Steven Kovac's photo shows a rare capture of flying fish, which won the Blackwater category. He explains that at times during a blackwater dive, flying fish can be found cruising along the surface with their reflections visible. Not an easy shot to get due to the movement of the water on the surface, this time the shooting conditions came together and he managed to successfully photograph the fish.
Coldwater
Photographer Matthew Sullivan won the category with "Traffic Jam," a photo of pink salmon swimming in waves. Sullivan anchored himself against a rock at the base of a small plunge pool and watched the fish mind their own business as groups kept swimming past.
Underwater Conservation
Catherine Holmes's winning photo depicts a diver examining the progress of coral fragment growth on a coral tree, set up by Coral Reef Restoration Alliance in Barbados to propagate new coral growth from live fragments. Coral restoration projects like these have been set up in many locations across the world to fight against the loss of habitat-forming hard corals over recent decades.
Underwater Art
Whilst diving in Cuba, Jenny Stock caught captivating images of vivid fairy basslet, with one of them capturing the judges' attention in the Underwater Art category. In post-processing, Stock used masks and filters to let the basslet bodies disperse into wisps of colorful smokey clouds against a jet-black background.
Black and White
Photographer Tom St. George joined for a cave dive at Cenote Zacil-Ha, Mexico. After a while of swimming through some very small passages, the cave opened up and presented a grand view of giant speleothems, which took millennia to form. He explains that this image worked particularly well in black and white with the interplay of light and shadow, and the textures revealed by the backlighting.
Compact Wide-Angle
Kate Rister's "Motherhood" photograph won the category. The image depicts a humpback whale mother with a calf. They are seen annually in the shallow waters off of Moorea, Tahiti. She notes that it is important to approach a mother and a calf slowly and with respect because not every pair will stay in the area once they spot the photographer.
Compact Macro
The winning photo of Compact Macro shows a gathering of Idiomysys shrimps. Kathrin Landgraf-Kluge captured it during her first diving holiday in Egypt after she had just got a new camera that she wanted to test out. She encountered the hundreds of shrimp right at the end of a dive at the house reef, as she was just heading to the exit.
Compact Behavior
An intimate photograph of two seahorses during a mating ritual won the Compact Behavior category. Although PT Hirschfield had had hundreds of dives with the Mornington Peninsula's Bigbelly seahorses, this was his first opportunity to witness and capture a female transferring her eggs into the male's pouch.
All winners of the competition, including honorable mentions, and their photographs can be found on the Underwater Photography Guide website.
---
Image credits: All photos individually credited and provided courtesy of the Underwater Photography Guide.