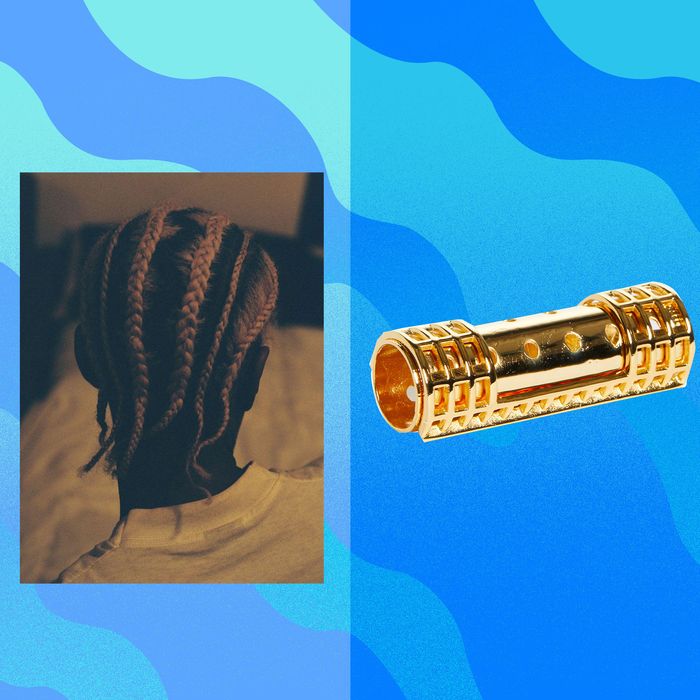 While Black hair is art, Black hair has also inspired all sorts of other works of art, from barbershop paintings to giant barrette sculptures to gorgeous coffee-table books. To uncover the best of the best out there, we reached out to the coolest artists, curators, and store owners we know to learn about some of their favorite pieces of Black hair art. Ahead, 20 prints, books, objects, and museum experiences all about Black hair.
Shani Crowe's work was mentioned by several cool people we talked to. Crowe is a skilled braider and artist who often blends the two in her photography. This particular print, which features three women connected by a single braid, comes recommended by Kiyannah Stewart and Jannah Handy of Blk Mkt Vintage. "We appreciate her expression on so many levels — the visual beauty, the photographic composition, and, most of all, the sheer technical skill it takes to be a hair-braider and stylist of that magnitude and imagination," they say. "As two Black women, we have personally demonstrated our creativity through our hair and are affirmed and encouraged by the ways she takes the medium to a whole other level." This is one of several prints available from Crowe's collection titled "BRAIDS." Handy and Stewart own another print from the collection called "Sankofa" and have it framed in their bedroom.
Marcella D. Zigbuo Camara, the founding curator of "Young, Gifted, and Broke," a pop-up art exhibition and creative consultancy uplifting Black and POC artists and creatives, also recommends work by Crowe. Camara first became familiar with Crowe from her work with Solange. (Crowe is the hairstylist — nay, artist — who created Solange's braided halo look from her 2016 Saturday Night Live performance.) "R Baby G" is from Crowe's "Red, Black, and Green" series, which celebrates the Pan-African flag. This limited-edition poster was released in October and features a pregnant woman with beaded braids in the colors of the flag.
Photo: retailer
"'Hair Stories Untold' is one of my favorite works about Black women's hair practices and traditions," says Stewart. This series by Nakeya Brown features different ways Black women take care of their hair at home, whether that be deep conditioning, dipping a fresh set of box braids into boiling water, or straightening their hair with a hot comb on the stove. Stewart actually went to college with Brown and says, "It's been incredible to witness her center the most intimate and mundane of Black hair culture in her work." Stewart has the original print of the photo capturing a hot comb, stove, and oven mitt from this series hanging in her kitchen "as part of a collage wall dedicated to beauty, community, and food."
Photo: retailer
Photographer Cary Fagan turns his work into puzzles and prints and sells them through his store, Timeless Goods. "I became familiar with him because he does a lot of creative direction and other set design and photography for Solange," says Camara. "I like this print specifically because she just looks like a regular Black girl. This could be my cousin, this could be me, this could be something that I wear to go to the farmers' market or the grocery store." Camara also likes that the model is dark-skinned. "As a dark-skinned Black person with natural hair, I appreciate being able to see myself in the work, whether that person has dark skin, has natural hair, is plus-size, has different skin textures," she says. "I just think that's important."
Camara recently purchased this print, which she explains is rooted in the West African tradition of hand-painted advertisements. "A lot of folks didn't have access to huge printing presses back in the day to make a sign we might have had here in the '70s or '80s or '90s, so people just painted it," she says. "And even though now they have access to all those things, that tradition still holds and people will still get these really unique paintings to advertise the braid or a hair shop." This Etsy shop takes that concept and fuses it with famous quotes; this one is from musician Fela Kuti.
Camara "loves prints you won't find anywhere else," and says this one is particularly hard to find. It's a print of jazz musician Luis Gasca's For Those Who Chant album cover and would make a fine addition in any music lover's home. Camara says the LP and album cover are just as hard to find. She didn't know much about the artist before stumbling across this poster last summer, she adds, but was drawn to it nonetheless. "This specific print is really stirring and really beautiful," she says. "I love the colors, and this woman, and I think that it's just a really interesting print. It reminds me of Afro-Latino musicians in the '60s and '70s, like La Lupe and Santana."
Photo: retailer
Coffee-table books are another way to bring art into your home, and according to our experts, this monograph is essential. "As an image maker and collagist who centers Black women's hair and beauty, Lorna created this fabulous collection of work where the representations of hair are wondrous, awe-inspiring, and otherworldly," says Stewart. She explains that Simpson uses vintage Jet and Ebony magazines as source material to adorn the heads of Black women; she also uses color and geological formations from textbooks to create reimagined portraits of Black hair. Camara is also a fan. "I always say, if you're going to get into collecting coffee-table books or monographs about Black art, you should totally get Lorna Simpson's book," she says. She appreciates that it's affordable and says that even though it's just three years old — the book was published in 2018 — it's already a timeless classic.
Photo: retailer
If you're looking for an even more modern piece of Lorna Simpson history, Camara suggests framing your January/February 2021 issue of Essence magazine. The cover features Rihanna with her hair reimagined by Simpson in a similar fashion to the portraits in her book. "It was really powerful to me that this concept was used for Essence," Camara says. "A lot of people, even Black artists and Black creatives, save their best ideas for Vogue and Vanity Fair. Essence is a mainstream magazine, but we know how people look at Black publications, so I thought it was really beautiful that Rihanna and Lorna chose to work together, and that they chose to work together for Essence. That was just really iconic." She adds that in 30 years, we'll all be trying to buy it on eBay — so if you already own it, hold on to it.
Photo: retailer
Next on Camara's list of essential monographs is Ever Young by James Barnor, which is one of the titles she purchased for a Black art book lending library she's building for "Young, Gifted, and Broke." Barnor is a Ghanaian photographer who captures Black life throughout the diaspora during different periods of transition in society. There are photos of Ghana post-revolution and images of immigrants who've traveled from the West Indies and Africa to England, but she particularly likes how these images also serve as a reference for the style at the time. "It really shows Black hair in all of its glory," she says. "It shows women wearing wigs, their natural hair, and women with straightened hair. I think it's interesting because it shows Black women and other Black people transitioning into Eurocentric society, but also still trying to maintain their cultural identity."
Photographer and model Sandrine Somé says there are plenty of Black hair art and artifacts to source from wä dé, a store curated by Esther Hien. "She makes it her mission to source old magazines, books, and artifacts that speak to our African heritage, with many of these items having an emphasis on hair," Somé says. "There's a couple of amazing books and Afro picks available at the moment." This book by Jean-Marie Lerat will tell you everything you want to know about West African hairstyles. It is in French, but even if you don't speak the language, the images are beautiful to look at.
Photo: retailer
Somé also likes this book of photos and essays from Burkina Faso photographer Sanlé Sory. It captures the jazz music scene and life post-liberation in the city of Bobo-Dioulasso. "This book gives an amazing glimpse into West African culture, fashion, and hairstyles in the '70s and '80s," she says.
Photo: retailer
This photo book by Arial Robinson serves as an ode to Black hair-care products new and old. It's a nostalgic piece with drawings of the hot comb and products like Pink Lotion, but everything is also grouped by color to help little kids learn as well. "I think books definitely function as art, and I love that she's created something centered on such a specific Black experience that is also a reflection of her and her very multifaceted practice," says Tara Fay Coleman, a curator whose latest work, "Roots Run Deep: A Contemporary Survey of African American Hair Culture," served as a reflection on Black hairstyles. This title also comes in coloring-book form, which Camara purchased a few months ago. She appreciates that, in addition to more traditional forms of art, Robinson creates things like coloring books and blankets, which make art more accessible. "If you don't access art in traditional ways, like through museums or gallery spaces or even just online, you can interact with her work in this other way that's more utilitarian," she adds.
Photo: retailer
In addition to traditional art prints and books, there are sculptures and, as Camara mentioned, utilitarian objects that serve as art, too, like this plant pot picked by Rinny Perkins, who runs the gift shop Brownie Points. "I loved the concept of these 3-D-printed planters that served as a means of amplifying Black representation in the horticulture space," she says. "I bought the Rooted Pots 'Onileola' pot to use as a planter, because, like most millennials, I own one too many houseplants. 'Onileola' is Yoruba for 'owner of a house of wealth,' and I would like my student loans to stop holding me back." It's made-to-order so you can customize the color and size, and they all come with pierced ears, so you can drop in your favorite earrings, too. Perkins has hers "prominently displayed on my coffee table with hair made out of string-of-pearls succulents to replicate the look of natural hair hanging over a head wrap."
Photo: retailer/Copyright 2017. All rights reserved.
Stewart says these vintage Afro picks are one of Blk Mkt Vintage's top-selling items. "We typically source Afro picks in their original packaging, dated late '60s–'80s — the height of the 'Black Is Beautiful' movement," she says. "These Pan-African picks have gorgeous typography and imagery, both emblematic of that era." These picks are in good enough condition to actually use, but Stewart says some customers choose to preserve the packaging and frame them.
"Our fam over at L'Enchanteur created these amazing gold hair rollers that spoke directly to the little Black girl in both of us — the same little girls who had a single roller perched on her forehead, priming and taming her bangs for Easter Sunday church service," says Stewart. "The gold Nap Rollers are playful and summon nostalgia." Stewart says this would be a great addition to a shadow-box display of other hair relics, but "we think the best way to display these are to rock 'em."
Photo: retailer
"T-shirts can be art, right?" asks Somé, who recommends this hair salon T-shirt from Wekafore featuring some classic '90s looks you probably remember seeing in that book of hairstyles to choose from at the salon. Somé adds, "All of the pieces they make are inspired by a rich African culture of hair salons, community, and spirituality." This shirt is also available in a short-sleeved style.
Photo: retailer
Coleman has one of these giant barrettes hanging in her house. A visual many of us can relate to, artist Ayanna Nayo fulfills her mission of creating as she writes on her website a "visual archive — preserving the past, giving objects life and autonomy, and conjuring nostalgia in viewers." Coleman says, "I grew up wearing braided styles with barrettes, and they are a huge part of Black girlhood." These are about two feet long — so not exactly wearable — but Coleman says they make a great centerpiece to any art collection.
[Editor's note: These barrettes are currently sold out in every color, but stay tuned to the website and Instagram for limited-edition releases.]
Photo: retailer
Another work by Fagan, this is one of his photos turned puzzles, which Camara turned into a piece of hanging art. "I got this puzzle and a few of his others," she says, adding that the cornrows are "timeless." She says she almost didn't buy it because it looked so difficult to do, but it was ultimately worth the effort. "The color scheme is so similar, but I knew the payoff would be good once I finished it." If you're up to the challenge, you can choose between 260, 500, 1,000, and a 2,000-piece version, depending on how large you want your final version to be (and depending on how challenging you like your puzzles).
Photo: retailer
This scarf is a little easier than a monochrome thousand-piece puzzle to turn into art. Camara was drawn to the woman with the Afro here, among other things. "There's also the seven-day candle, books, and food, and all the things displayed here I kind of just relate to. I like to wear things and display things in my home that interpret how I'm feeling and interpret how I see the world," she says. And, of course, she likes the versatility a scarf-as-art offers. "I love textiles because you can use it as a scarf, but you can also use it as a tapestry, or just hang it and display it and frame it."
If you want the traditional art experience, there are even museums made about our hair. The Black Hair Experience is an interactive pop-up art exhibit that celebrates Black hair. (Think Museum of Ice Cream, but all about Black hair.) "They have a room that's all about braids, and they have rooms that are themed after different popular Black hair-care tools like a rat-tail comb, they have one room that's just Black hair magazines, and things like that," explains Camara. "I think it's a brilliant concept and I think that it's interesting and cool they were able to pull it off during quarantine." It's a traveling exhibit that's currently in Atlanta and will be in Maryland in May.
The Strategist is designed to surface the most useful, expert recommendations for things to buy across the vast e-commerce landscape. Some of our latest conquests include the best acne treatments, rolling luggage, pillows for side sleepers, natural anxiety remedies, and bath towels. We update links when possible, but note that deals can expire and all prices are subject to change.